Hi,
get ready for a huge post.....i made sooooooooooo many things....for the new "arrivals" ...
My last posts was about pregnancy albums ....and now it's time for the "arrivals"right???
soooooooo i made some new things -baby stuff...and i want to share them with you....ready???
1. baby girl mobile (it can be hanged on your ceiling...etc)
i hanged it on a door
handle just to take some photos and in order you to understand
the actual size
compared to
the door -each hot air balloon is 24 cm aproximately...
2.baby boy mobile (single hot air balloon)
3.baby girl pacifier clip
Making lots of felt brooches i thought ...why babies wear these plastic clips to secure the pacifier???wouldn't be better if there was available to shoppers more stylish pacifier clips???This is when i decided to make brooches for the little ladies...!!!!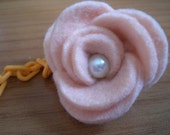 4.baby boy diaper cake
my first attempt to make a diaper cake ...a friend gave birth and i thought that ...that was the perfectime for me to give it a try...so, tow layers of diapers
Thank you soooooooo much for visiting today...!!!!!!!!
I'd love to read your comments!!!!!!!
Love
Makrina